YULEE, FL – The first release of homesites have sold out at Dream Finders Homes' newest master-planned community in Nassau County. Fifteen lots sold within a two-week period in August at Tributary, where the homebuilder will initially build more than 60 new single-family homes
One and two-story floorplans range from 1,613 to 3,285 square feet of living area with three to five bedrooms and two to five bathrooms and two and three-car garages. Base floorplan prices range from $232,990 to $335,990.
Two model homes are well underway in Tributary: the Driftwood plan for 50-foot homesites and the popular Avalon II designed for 60-foot homesites. Professionally decorated models will be ready for touring by late 2020, according to Brad Muston, Division President.
"This is a beautiful community in a natural setting that will offer a lakefront amenity center, a resort-style swimming pool, a state-of-the-art fitness center, an array of sports courts, and entertainment areas," he said. "A comprehensive trail system is a key feature of this community and residents will enjoy family-friendly pocket parks and a dog park within nature-filled surroundings."
Tributary is situated amid North Florida's natural beauty with access to Boggy Creek that leads to the Nassau River and ultimately the Atlantic Ocean, all providing a variety of water sports opportunities.
Top-notch healthcare is minutes away along with A-rated schools, the Amelia Island beaches and major roadways providing easy access to downtown and the Jacksonville airport, Muston explained.
"There has already been an overwhelming response in our next phase of lots. We expect great success from this community and encourage buyers to take a look today as these homes go quickly."
At buildout, the development will comprise approximately 3,200 homes spanning 1,550 acres located where A1A meets Edwards Road in Yulee.
For more information, visit www.dreamfindershomes.com or call 888-214-1164.
NASSAU COUNTY, Fla. – GreenPointe Developers, LLC, in partnership with the Nassau County Board of Commissioners, recently celebrated the groundbreaking of Tributary Park, a Nassau County Regional Park.
Tributary Park is located on Edwards Road, just west of Interstate 95. The new public park is adjacent to the community of Tributary, a master-planned, mixed-use community located in one of the area's fastest-growing corridors.
"Tributary Park will be a wonderful addition to the Nassau County community park system and a place where residents and visitors can gather, play and enjoy nature," said Grady Miars, President, GreenPointe Communities. "In partnership with Nassau County, we have truly outstanding park designs and we are creating a place where the community can enjoy recreational pursuits and connect with Tributary's exceptional natural surroundings."
GreenPointe Developers donated more than 40 acres to Nassau County for conversion into a community park for use by residents and businesses. Tributary Park will be a new regional complex for sports fans and outdoor enthusiasts of all ages. The new park will feature baseball and multi-purpose fields, concessions, a multi-purpose trail, and a future dog park. Completion of the park's first phase is anticipated in 2021.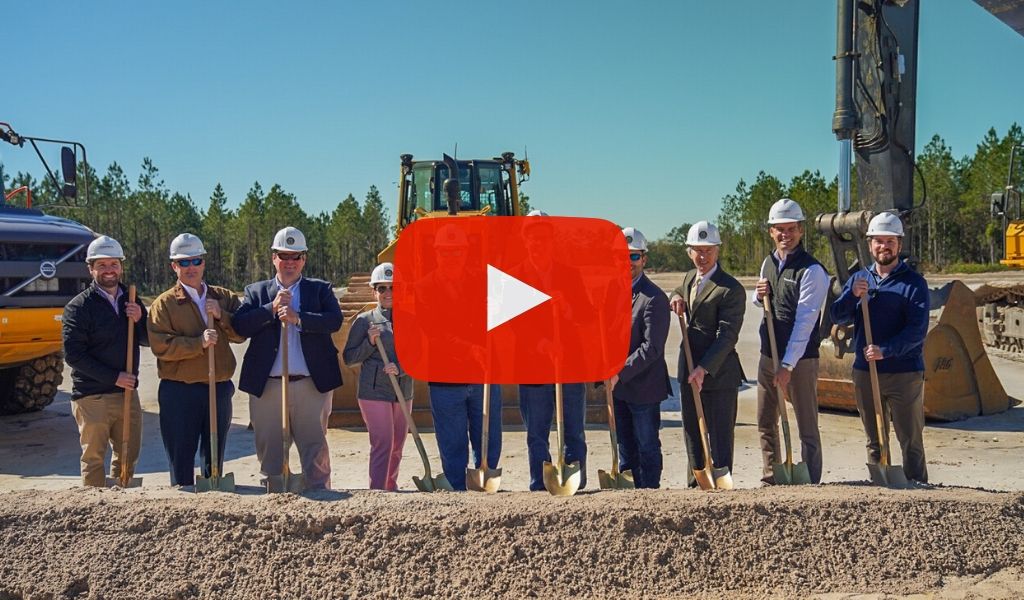 Board of County Commissioners Chairman Danny Leeper stated, "We are excited to welcome another GreenPointe Community to Nassau County. Not only are their communities aesthetically pleasing with exceptional architectural styles and landscaping, their communities also offer an array of amenities. Tributary Regional Park will truly have something for everyone and we are excited to partner with them on this project."
The community of Tributary has been thoughtfully planned to highlight the community's premier location and geographical features. Tributary will include residential neighborhoods offering resort-style amenities, dog park, a comprehensive trail system, neighborhood parks with riverfront access, commercial and office space, and approximately 3,200 home sites. In addition to building a park and preserving a significant portion of the community's uplands and wetlands, GreenPointe will be donating a site for a Nassau County public school and building a fire station.
District Five Commissioner Justin Taylor echoed Chairman Leeper's comments adding, "I am thrilled to partner with GreenPointe Communities to construct much needed recreational space for current and future residents. Because of the thoughtful planning that took place, there is a clear and explicit phasing schedule for these improvements. It's great to partner with developers who share our vision."
Homes in Tributary will include single-family homes, townhomes and multi-family properties offering innovative floor plans and home designs ranging in size and style to meet the homebuyer's lifestyle. Homes are anticipated to be priced from the $200s.
Nassau County's Planning Director Adrienne Burke stated, "The development program includes homes, as well as office, commercial and industrial space. With this mix of uses, combined with the park and future school site, Tributary will be a part of the Nassau County community for years to come, and will provide opportunities for residents to live, play and work."
The community will be served by top-rated schools in the Nassau County School District. Tributary will offer a premier location near shopping, dining, recreation, medical centers, business centers and more.
Community construction is underway. Sales are anticipated to open in Summer 2020. For more information, visit www.tributaryliving.com.
Photography:
GreenPointe Developers, LLC, in partnership with the Nassau County Board of Commissioners, recently celebrated the groundbreaking of Tributary Park. From left:
Liam O'Rielly, Senior Development Manager, GreenPointe Communities
Mike Taylor, North Florida Regional President, GreenPointe Communities
Thomas Ford, District 4 Commissioner, Nassau County
Adrienne Burke, Director of Planning and Economic Opportunity, Nassau County
Pat Edwards, District 3 Commissioner, Nassau County
Aaron Bell, District 2 Commissioner, Nassau County
Justin Taylor, District 5 Commissioner, Nassau County
Daniel Leeper, District 1 Commissioner and Vice Chair, Nassau County
Grady Miars, President, GreenPointe Communities
Gregg Kern, Project Manager, GreenPointe Communities
About GreenPointe Developers, LLC
GreenPointe Developers is the community and urban development division of GreenPointe Holdings with extensive real estate market data and analytical systems to rapidly assess real estate values and challenges.
The GreenPointe team has more than 140 years collective experience in developing some of the most sought-after master-planned and condominium communities in the Southeast. The team creates and transforms residential and mixed-use communities into neighborhoods for today's homebuyer while providing lasting, sustainable value.
Having the utmost respect for the land, the GreenPointe team works diligently to protect and enhance nature's best assets. This thoughtful practice allows GreenPointe Developers to create and reenergize communities that provide for an enduring lifestyle where people want to live, work and enjoy recreation.
More information is available at www.GreenPointeLLC.com or (904) 996-2485.