Breathe in. Breathe out. Unplug. Take a breath of fresh air. There has never been a better time to step away from what seems like an endless supply of screens and take time to improve your mental and physical health. There are plenty of workouts taking social media by storm, although now even many of those involve screens and other technology, but doctors suggest what some would call the world's oldest form of exercise, a hike. It's no wonder the developers of Tributary in Nassau County expect the community's trail system to be its top amenity.
While many people love hiking for the enjoyment of it, there is no denying that your typical stroll through the woods can not only improve your physical well-being but your mental health as well. Researchers at the University of British Columbia found that using hiking as an aerobic exercise can improve memory and cognitive ability along with relieving a tremendous amount of stress. According to WebMD, more and more doctors are writing "nature prescriptions" or "ecotherapy" for stress related illnesses. Hiking has also been found to help individuals improve their focus and sharpen their problem-solving skills.
Like many other aspects of our lives, convenience plays a major factor in an individual's actions, maybe none more so than physical and mental training. Living close to hiking trails and parks would give those residents an advantage compared to those living in a busy cityscape. Luckily for Northeast Florida and Nassau County, the new master-planned community Tributary will be the ideal location to unwind and unplug.
At Tributary, every day will be the perfect day to get outside and hit the trail! There is a fierce commitment to connect people to the outdoors and provide the health and wellness benefits that come with living in a walkable community. The natural paradise within Tributary will provide residents the chance to immerse themselves in the amazing scenery as they meander their way through the many hiking and biking trails, community green spaces and pocket parks currently being developed. Masterfully planned and constructed by Avid Trails, they come with a promise: "We personally design our trails to capitalize on the unique features within each community, it's the perfect place for people to get outside, have fun, and be happy."
Along with the hidden mental health benefits of outdoor activities, there are plenty of obvious physical health benefits. Hiking trails or uneven terrain has been found to use 28 percent more energy than walking on flat ground. On average, a moderate hike can burn 300-400 calories per hour. Of course, that number can easily be skewed depending on a variety of factors like length and speed of the hike. But there is no denying that your physical health will improve when you hit the trails.
Tributary will span over 1,500 acres and feature trail systems connecting each neighborhood and the trailheads of Four Creeks State Forest and Tributary Regional Park. Residents will truly enjoy a life dedicated to our mantra "Explore More". This new community offers over 30 single-family modern-rustic home designs, priced from the $300s. Renowned builders Dream Finders Homes, Lennar and Richmond American Homes are currently constructing models to be featured within the community's Model Home Village. Sales have already begun, and tours of the completed Model Home Village are projected to begin in Spring 2021.
Sign up for a free digital brochure at TributaryFL.com to learn more about what's coming to this amazing new natural community. Prepare to blow your river lovin' mind at Tributary!
NASSAU COUNTY, Fla. – GreenPointe Developers, LLC, in partnership with the Nassau County Board of Commissioners, recently celebrated the groundbreaking of Tributary Park, a Nassau County Regional Park.
Tributary Park is located on Edwards Road, just west of Interstate 95. The new public park is adjacent to the community of Tributary, a master-planned, mixed-use community located in one of the area's fastest-growing corridors.
"Tributary Park will be a wonderful addition to the Nassau County community park system and a place where residents and visitors can gather, play and enjoy nature," said Grady Miars, President, GreenPointe Communities. "In partnership with Nassau County, we have truly outstanding park designs and we are creating a place where the community can enjoy recreational pursuits and connect with Tributary's exceptional natural surroundings."
GreenPointe Developers donated more than 40 acres to Nassau County for conversion into a community park for use by residents and businesses. Tributary Park will be a new regional complex for sports fans and outdoor enthusiasts of all ages. The new park will feature baseball and multi-purpose fields, concessions, a multi-purpose trail, and a future dog park. Completion of the park's first phase is anticipated in 2021.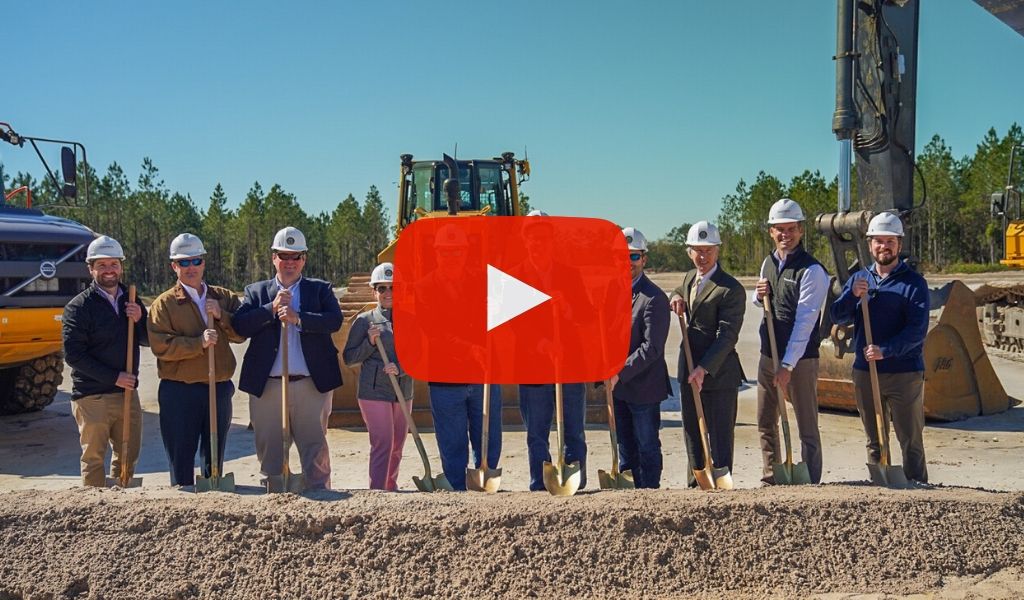 Board of County Commissioners Chairman Danny Leeper stated, "We are excited to welcome another GreenPointe Community to Nassau County. Not only are their communities aesthetically pleasing with exceptional architectural styles and landscaping, their communities also offer an array of amenities. Tributary Regional Park will truly have something for everyone and we are excited to partner with them on this project."
The community of Tributary has been thoughtfully planned to highlight the community's premier location and geographical features. Tributary will include residential neighborhoods offering resort-style amenities, dog park, a comprehensive trail system, neighborhood parks with riverfront access, commercial and office space, and approximately 3,200 home sites. In addition to building a park and preserving a significant portion of the community's uplands and wetlands, GreenPointe will be donating a site for a Nassau County public school and building a fire station.
District Five Commissioner Justin Taylor echoed Chairman Leeper's comments adding, "I am thrilled to partner with GreenPointe Communities to construct much needed recreational space for current and future residents. Because of the thoughtful planning that took place, there is a clear and explicit phasing schedule for these improvements. It's great to partner with developers who share our vision."
Homes in Tributary will include single-family homes, townhomes and multi-family properties offering innovative floor plans and home designs ranging in size and style to meet the homebuyer's lifestyle. Homes are anticipated to be priced from the $300s.
Nassau County's Planning Director Adrienne Burke stated, "The development program includes homes, as well as office, commercial and industrial space. With this mix of uses, combined with the park and future school site, Tributary will be a part of the Nassau County community for years to come, and will provide opportunities for residents to live, play and work."
The community will be served by top-rated schools in the Nassau County School District. Tributary will offer a premier location near shopping, dining, recreation, medical centers, business centers and more.
Community construction is underway. Sales are anticipated to open in Summer 2020. For more information, visit www.tributaryliving.com.
Photography:
GreenPointe Developers, LLC, in partnership with the Nassau County Board of Commissioners, recently celebrated the groundbreaking of Tributary Park. From left:
Liam O'Rielly, Senior Development Manager, GreenPointe Communities
Mike Taylor, North Florida Regional President, GreenPointe Communities
Thomas Ford, District 4 Commissioner, Nassau County
Adrienne Burke, Director of Planning and Economic Opportunity, Nassau County
Pat Edwards, District 3 Commissioner, Nassau County
Aaron Bell, District 2 Commissioner, Nassau County
Justin Taylor, District 5 Commissioner, Nassau County
Daniel Leeper, District 1 Commissioner and Vice Chair, Nassau County
Grady Miars, President, GreenPointe Communities
Gregg Kern, Project Manager, GreenPointe Communities
About GreenPointe Developers, LLC
GreenPointe Developers is the community and urban development division of GreenPointe Holdings with extensive real estate market data and analytical systems to rapidly assess real estate values and challenges.
The GreenPointe team has more than 140 years collective experience in developing some of the most sought-after master-planned and condominium communities in the Southeast. The team creates and transforms residential and mixed-use communities into neighborhoods for today's homebuyer while providing lasting, sustainable value.
Having the utmost respect for the land, the GreenPointe team works diligently to protect and enhance nature's best assets. This thoughtful practice allows GreenPointe Developers to create and reenergize communities that provide for an enduring lifestyle where people want to live, work and enjoy recreation.
More information is available at www.GreenPointeLLC.com or (904) 996-2485.