YULEE, FL – The first release of homesites have sold out at Dream Finders Homes' newest master-planned community in Nassau County. Fifteen lots sold within a two-week period in August at Tributary, where the homebuilder will initially build more than 60 new single-family homes
One and two-story floorplans range from 1,613 to 3,285 square feet of living area with three to five bedrooms and two to five bathrooms and two and three-car garages. Base floorplan prices range from $232,990 to $335,990.
Two model homes are well underway in Tributary: the Driftwood plan for 50-foot homesites and the popular Avalon II designed for 60-foot homesites. Professionally decorated models will be ready for touring by late 2020, according to Brad Muston, Division President.
"This is a beautiful community in a natural setting that will offer a lakefront amenity center, a resort-style swimming pool, a state-of-the-art fitness center, an array of sports courts, and entertainment areas," he said. "A comprehensive trail system is a key feature of this community and residents will enjoy family-friendly pocket parks and a dog park within nature-filled surroundings."
Tributary is situated amid North Florida's natural beauty with access to Boggy Creek that leads to the Nassau River and ultimately the Atlantic Ocean, all providing a variety of water sports opportunities.
Top-notch healthcare is minutes away along with A-rated schools, the Amelia Island beaches and major roadways providing easy access to downtown and the Jacksonville airport, Muston explained.
"There has already been an overwhelming response in our next phase of lots. We expect great success from this community and encourage buyers to take a look today as these homes go quickly."
At buildout, the development will comprise approximately 3,200 homes spanning 1,550 acres located where A1A meets Edwards Road in Yulee.
For more information, visit www.dreamfindershomes.com or call 888-214-1164.
For many average American workers, the dream of owning a home has been a lofty aspiration. Renting was a choice by necessity, not the end game. Now, with the current climate creating uncertainty in many areas of life, home ownership may be a silver lining that results from the events of 2020. Historically low interest rates are opening the doors to homeownership to many who may have previously been priced out of the market. It might sound surprising, but now may be the ideal time to transition from renting to buying, or just to make a move in general. Here are the three main things to consider:
1. The Market
The current state of the market certainly has its opportunities right now. Those in the seller's shoes can negotiate higher prices for their properties due to limited existing inventory. Buyers, on the other hand, can take advantage of competitively priced homes and extremely low interest rates. The option to affordably build your dream home within a new community may also be on the table.
2. Your Budget
Potential buyers may be in a perfect position to capitalize on their situation. And if they have money already set aside to invest and job stability, even better! Timing is a key factor when considering a home purchase.
Homeownership offers not only the benefits of stability, belonging to a community and pride of ownership, but also greater financial flexibility. There are special types of loans offered to individuals like first time home buyers or veterans, tax breaks and the opportunity to build equity and long-term wealth for yourself and your family. And since interest rates are so low, your mortgage payment will most likely be less than what you were spending in rent. There are even new communities currently being developed aimed at providing a variety of options to meet every budget. Tributary, a new community by GreenPointe Developers, is bringing a new style of modern-rustic homes to Nassau County that are competitively priced from the $200's. You can take a look at the impressive selection of 30+ distinctively designed single-family homes here.
3. Your Reason
Why are you thinking of buying a new home? Is your family growing, downsizing, or are you just looking to make a move to an area more suited to your lifestyle? A growing number of people now have the flexibility to work remotely, decreasing the need to reside near and commute to an office every day. This is allowing those the option to expand their home search to more areas bringing in more choices to consider. Millennial buyers are now at the age of starting families and deciding that more square footage, quality school systems, abundant outdoor space and new communities with family-friendly amenities are a critical component of their home searches.
If you are currently residing in or considering a move to sunny North Florida, Nassau County is a growing area that's worth a look. GreenPointe Developers has unveiled Tributary, an exciting master-planned community located just west of I-95 off of SR200/A1A. Where modern-rustic homes from the area's top builders are affordably priced from the $200s, perfect for first time home buyers.
Tributary's renowned amenities will serve as the social centerpiece of the community. The Lookout Amenity Center will include a sparkling, resort-inspired pool, Adventure Zone Tot-Lot, paw-some dog park, state-of-the-art fitness studio and an array of sports courts, pocket parks and trails that directly connect to neighboring Four Creeks State Forest. It's the perfect place to gather with family and friends to create memories and "Explore More" right in your own backyard. It truly is a one-of-a-kind location surrounded by nature, close to A-rated schools, historic downtowns, shopping and incredible beaches.
Interested prospective buyers can check out over 30 unique home designs, learn more about the community, and contact the sales team by visiting TributaryLiving.com. Connect with us to stay updated and discover why Tributary is the perfect place to call home.
For many across the country, society's "new normal" has considerably limited their social life and changed their perspective for the future. And while it's likely to be considered risky to gather in large groups of family and friends for a while longer, maybe this is the time to explore all the ways to connect with the great outdoors! North Florida is full of amazing natural wonders with wide open spaces and fun attractions. While Nassau County is a path less traveled, it offers a diverse array of activities that has homebuyers appreciating their surroundings like never before. Here are some activities we think will spark any adventurer's interest.
Feel Free in the Sand & Sea!
If you love the ocean, you have to visit Amelia Island and Fernandina Beach. Located on the coastline in northeast Florida, these destinations are easy to reach but hard to forget. 13 miles of coastline and over 40 public beach access points allows for plenty of room to relax under the sun, swim in the cool water, or catch some waves if the surf's up. Top surf spots on the North side include Main Beach, American Beach, Peters Point and Ft. Clinch State Park. You can even check out the area's surf reports and cams before paddling out. And if you want to literally "hoof it", you can book a guided local tour of the pristine Atlantic shore by horseback.
Exploration Made Easy
For those who prefer traveling on their own two feet, a visit to the area's best hiking and nature trails will keep you grounded. You can choose to explore yourself, or book a guided nature walk that takes place every Saturday morning at 10:30 am. Four Creeks State Forest covers 13,106 acres, and joins Alligator (Mills), Thomas, Boggy and Plummer Creeks. While there are many ways to explore this massive forest along the forest and service roads, the named Wood-Shingle Mill Trail stretches 2.6 miles from the trailhead located right off State Road 200. If a visit isn't enough and you want to immerse yourself in nature, Nassau County's newest community, Tributary, may be exactly what you've been searching for. This new community will feature masterfully planned trails that not only wind through its green spaces and parks, but also directly connects to the trailheads of neighboring Four Creeks State Forest.
Nearby, John Muir Ecological Park in Yulee is an easy quarter mile trail that zigzags through the forested marshland connecting a series of picnic shelters. Listen to the birds sing from the trees and even see the main line of one of Florida's first railroads. History meets nature at Fort Clinch State Park. This historic fort, significant to the Civil War, is only one aspect of the 1,400-acre park. Hiking trails cover all types of terrain and difficulty levels, while winding through forests, marsh and sand dunes. Wildlife observation is very good on these trails. Alligators, deer, gopher tortoises and a variety of birds can be seen throughout the park.
Above (or Below) Par Action
For those looking to trek where the grasses are a bit more maintained, North Florida has almost unlimited options for golf. Nassau County in particular has a handful of courses to choose from. To name a few, the Amelia River Golf Club is a full-service semi-private golf course with a club house, pro shop, PGA golf instruction, practice areas, locker rooms and dining facilities which are open to the public. The 27-hole Fernandina Beach Golf Club is one of the most popular municipal golf facilities in the country with its close proximity to Jacksonville and area beaches. The Golf Club at North Hampton is a signature Arnold Palmer designed golf course. This top-ranked course features spring-fed lakes, wild grasses and various elevation changes, unlike any other design in Northeast Florida.
A Bird's Eye View of Nassau County
Still not getting your adrenaline levels up…how does social distancing from 12,000 feet above ground sound? Then freefalling at speeds of over 125 miles per hour. Did I get your attention? Skydiving is definitely a high octane, once in a lifetime adventure and one of the best ways for thrill seekers to take in all of Northern Florida's natural beauty.
Close to Home
No matter your interests or speeds, Nassau County has something for every outdoor adventurer. One of its most anticipated additions is Tributary, a new master-planned community by GreenPointe Developers that delivers unmatched value in a beautiful, natural sanctuary. Residents of Tributary are invited to "Explore More" with a thoughtfully planned trail system that directly connects to Four Creeks State Forest and Tributary Park. Within the 1,550-acre master-planned community, residents will also enjoy The Lookout Amenity Center complete with a resort-inspired pool, fitness studio, dog park, Adventure Zone Tot-Lot, and so much more! Homes are priced from the $200's, have been unveiled and can be viewed on TributaryLiving.com. Six of the builders' unique model homes will soon break ground and be ready to tour later this year. Be sure to connect with us to stay updated and discover why Tributary is the perfect place to call home.
NASSAU COUNTY, Fla. – GreenPointe Developers, LLC, in partnership with the Nassau County Board of Commissioners, recently celebrated the groundbreaking of Tributary Park, a Nassau County Regional Park.
Tributary Park is located on Edwards Road, just west of Interstate 95. The new public park is adjacent to the community of Tributary, a master-planned, mixed-use community located in one of the area's fastest-growing corridors.
"Tributary Park will be a wonderful addition to the Nassau County community park system and a place where residents and visitors can gather, play and enjoy nature," said Grady Miars, President, GreenPointe Communities. "In partnership with Nassau County, we have truly outstanding park designs and we are creating a place where the community can enjoy recreational pursuits and connect with Tributary's exceptional natural surroundings."
GreenPointe Developers donated more than 40 acres to Nassau County for conversion into a community park for use by residents and businesses. Tributary Park will be a new regional complex for sports fans and outdoor enthusiasts of all ages. The new park will feature baseball and multi-purpose fields, concessions, a multi-purpose trail, and a future dog park. Completion of the park's first phase is anticipated in 2021.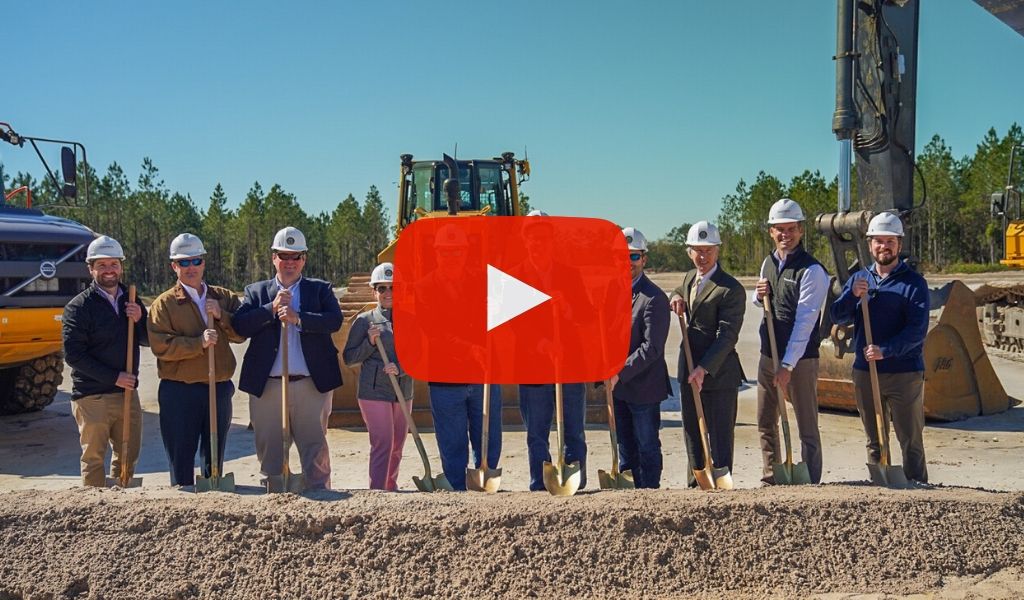 Board of County Commissioners Chairman Danny Leeper stated, "We are excited to welcome another GreenPointe Community to Nassau County. Not only are their communities aesthetically pleasing with exceptional architectural styles and landscaping, their communities also offer an array of amenities. Tributary Regional Park will truly have something for everyone and we are excited to partner with them on this project."
The community of Tributary has been thoughtfully planned to highlight the community's premier location and geographical features. Tributary will include residential neighborhoods offering resort-style amenities, dog park, a comprehensive trail system, neighborhood parks with riverfront access, commercial and office space, and approximately 3,200 home sites. In addition to building a park and preserving a significant portion of the community's uplands and wetlands, GreenPointe will be donating a site for a Nassau County public school and building a fire station.
District Five Commissioner Justin Taylor echoed Chairman Leeper's comments adding, "I am thrilled to partner with GreenPointe Communities to construct much needed recreational space for current and future residents. Because of the thoughtful planning that took place, there is a clear and explicit phasing schedule for these improvements. It's great to partner with developers who share our vision."
Homes in Tributary will include single-family homes, townhomes and multi-family properties offering innovative floor plans and home designs ranging in size and style to meet the homebuyer's lifestyle. Homes are anticipated to be priced from the $200s.
Nassau County's Planning Director Adrienne Burke stated, "The development program includes homes, as well as office, commercial and industrial space. With this mix of uses, combined with the park and future school site, Tributary will be a part of the Nassau County community for years to come, and will provide opportunities for residents to live, play and work."
The community will be served by top-rated schools in the Nassau County School District. Tributary will offer a premier location near shopping, dining, recreation, medical centers, business centers and more.
Community construction is underway. Sales are anticipated to open in Summer 2020. For more information, visit www.tributaryliving.com.
Photography:
GreenPointe Developers, LLC, in partnership with the Nassau County Board of Commissioners, recently celebrated the groundbreaking of Tributary Park. From left:
Liam O'Rielly, Senior Development Manager, GreenPointe Communities
Mike Taylor, North Florida Regional President, GreenPointe Communities
Thomas Ford, District 4 Commissioner, Nassau County
Adrienne Burke, Director of Planning and Economic Opportunity, Nassau County
Pat Edwards, District 3 Commissioner, Nassau County
Aaron Bell, District 2 Commissioner, Nassau County
Justin Taylor, District 5 Commissioner, Nassau County
Daniel Leeper, District 1 Commissioner and Vice Chair, Nassau County
Grady Miars, President, GreenPointe Communities
Gregg Kern, Project Manager, GreenPointe Communities
About GreenPointe Developers, LLC
GreenPointe Developers is the community and urban development division of GreenPointe Holdings with extensive real estate market data and analytical systems to rapidly assess real estate values and challenges.
The GreenPointe team has more than 140 years collective experience in developing some of the most sought-after master-planned and condominium communities in the Southeast. The team creates and transforms residential and mixed-use communities into neighborhoods for today's homebuyer while providing lasting, sustainable value.
Having the utmost respect for the land, the GreenPointe team works diligently to protect and enhance nature's best assets. This thoughtful practice allows GreenPointe Developers to create and reenergize communities that provide for an enduring lifestyle where people want to live, work and enjoy recreation.
More information is available at www.GreenPointeLLC.com or (904) 996-2485.